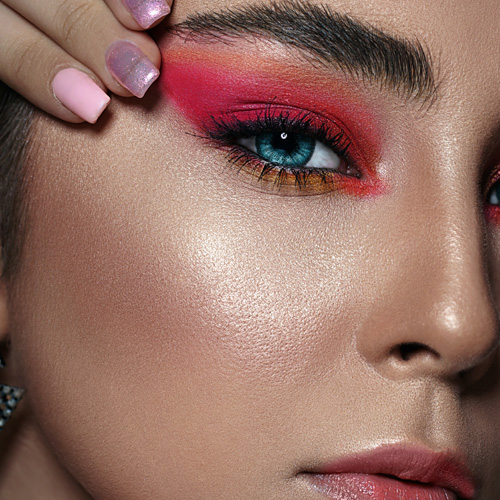 Designed for complete beginners or makeup artists that wish to update their skills.
7 HOURS
KIT INCLUDED
Course Completion – Diploma Certificate for being a certified makeup artist LEVEL 2
Eligibility to apply for student/Pro Makeup Brand discounts
Live feedback from our Celebrity Educators
Homework and Tests
CLASS 1
Skin Analysis – Uncovering skin tones, skin textures, and best finishes in products to compliment client's skin tone and select best color for foundation matching. (Hygiene)
Concealing –  Discuss color theory to achieve appropriate shades for client. Emphasis on placement for highlight and correct features.
CLASS 2
Bridal Look –  Learn how to create a glamorous bridal look that will last the test of time in photos.
Bridal skin, eye techniques, lash application, brows, highlight and contour. (Hygiene)
MUA Best Practices –  Learn the foundation of a bridal contract and discuss best practices to set yourself up for success.
CLASS 3
High Glam –  Discover how to create vibrant cut crease looks that are trending on social media. (Hygiene)
CLASS 4
Retro Pin Up Style –   Learn how to master winged eyeliner and a perfect bold lip by understanding eye shapes and lip shapes. (Hygiene)
CLASS 5
Smokey Eyes –  Learn how to create a smoky sultry eye that maximizes eye shapes.
CLASS 6
Editorial/Photoshoot Makeup –   Discuss the creative process of editorial makeup and what it's like behind the scenes on a photoshoot.  Discuss on location details that help make the shoot run smoothly. (Hygiene)
Kit Building