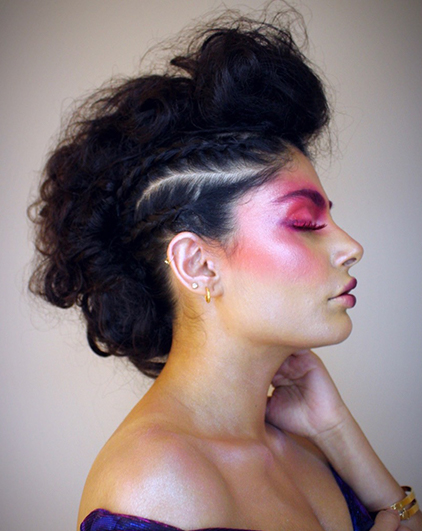 Our professional hair stylist will take you on a step by step guide when working on bridal, backstage on shows and photo shoots, as well as teach you the most up to date looks and styles.
This course will teach simple hair styles but will also work up to creative avant-garde styles you see on the catwalk and in magazines today.
This course includes:
CLASS 1
Blow drying into styles – Learn how to blow dry hair in to simple styles adding body to flat hair, create flicks and interesting natural styles.
Working with Tongs – Most session stylists work with tongs whether it's back stage or on a shoot. Learn how to create body curls flicks and other tong tricks
Setting the Hair – Learn how to set hair into styles with the use of Velcro and/or heated rollers
CLASS 2
Hair pieces and working with extensions – Our stylist will help you understand and teach you how to work with hair pieces and creating styles around extensions.
CLASS 3
Creating Curls – Learn the tricks of the trade of creating various types of curls. Learn how to create various types of curls using heat styling tools and how to straighten the professional way
CLASS 4
Hair up design – Learn simple hair-up techniques and adapt them to your own personal style.
Fashion ponytail – Learn how to create a fashion catwalk and photographic ponytail.
CLASS 5
Classic French pleat and beehive – Learn how to create a classic French pleat and turn it into a beehive style.
Fashion editorial – Our stylist will help you understand working on photographic and fashion magazines shoots, teaching you how to create effective and funky editorial styles.
CLASS 6
Weddings – Learn how to create stunning styles for brides.
Photographic hair styling – Learn quick and easy styles when working on photography shoots.
Music videos
Learn how to work with hair on music videos Celebrity looks.
Learn how to re-create celebrity styles.
Advertising working with hair on advertising jobs.